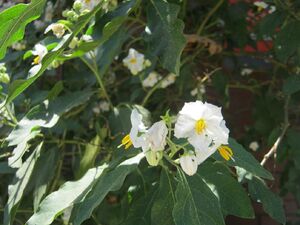 It is a member of nightshade family, not a true nettle.
Solanum carolinense grows from Nebraska to Texas east to the Atlantic, in extrem North Ohio, southern Ontario, and southern California[1]
Systematics
Edit
Solanum carolinense L.[2]
1.Pl. glabrous or glabrate..2
2.leaves thin, berries shiny black..S.americanum 2.leaves firm, berries dull black...S.nigrum
1.Pl prickly...............................3
3. pl with numerous bright yellow prickles, flowers yellow ....................................S.rostratum
3.Pl with pale prickles, flowers white or lavender.. S.carolinense
[3]
↑

Handbook of Poisonous and Injurious Plants

↑

A Flora of Southern Illinois
References
Edit
Mohlenbrock, RH. Flowering Plants: Nightshades to Mistletoe, Volumen 4. ISBN 0-8093-1567-X
Ad blocker interference detected!
Wikia is a free-to-use site that makes money from advertising. We have a modified experience for viewers using ad blockers

Wikia is not accessible if you've made further modifications. Remove the custom ad blocker rule(s) and the page will load as expected.