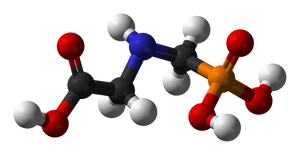 Glyphosate (N-(phosphonomethyl)glycine) is a broad-spectrum systemic herbicide used to kill weeds, especially annual broadleaf weeds and grasses known to compete with commercial crops grown around the globe. Round up(R) a trademark of Monsanto is probably carcinogenic Occupational exposure to agriculture pesticide and non-Hodgkin lymphoma has been established[1][2] In otherhand AMPA a metabolite of this inhibits certain cancer line[3] Furthermore glyphosate and genistein a compound of soja have additive estrogenic effect[4]
This article is a stub. Please improve this article, or other articles at Category:Stubs .
WHO agency: Monsanto weedkiller is 'probably carcinogenic'
The other side
Edit
.
Ad blocker interference detected!
Wikia is a free-to-use site that makes money from advertising. We have a modified experience for viewers using ad blockers

Wikia is not accessible if you've made further modifications. Remove the custom ad blocker rule(s) and the page will load as expected.