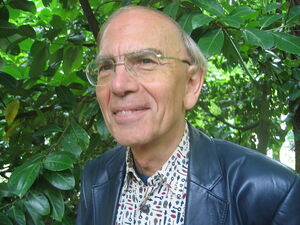 Hubertus Johannes Matthias Hermans (Maastricht, 9 oktober 1937) is een Nederlandse psycholoog en emeritus hoogleraar in de persoonlijkheidsleer aan de Radboud Universiteit te Nijmegen, internationaal bekend als ontwikkelaar van de zogenaamde "dialogical self theory":
Translated version
Edit
(Maastricht, October 9, 1937) is a Dutch psychologist and emeritus professor of personality psychology at Radboud University in Nijmegen, internationally known as the creator of the 'dialogical self theory ":
Self, Identity, and Globalization in Times of Uncertainty: A Dialogical Analysis
Ad blocker interference detected!
Wikia is a free-to-use site that makes money from advertising. We have a modified experience for viewers using ad blockers

Wikia is not accessible if you've made further modifications. Remove the custom ad blocker rule(s) and the page will load as expected.