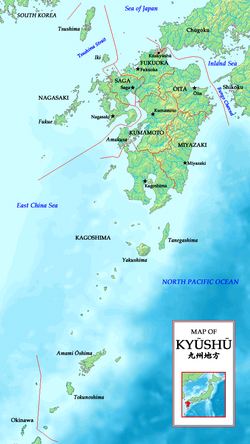 Kyushu is the third largest island of Japan and most southwesterly of its four main islands.
Section heading
Edit
The Japan Meteorological Agency said the quake hit at 9:26 p.m. and was centered in Mashiki town in the Kumamoto Prefecture where it registered the highest level of 7 on the Japanese seismic scale.[1]
Section heading
Edit
stub
Ad blocker interference detected!
Wikia is a free-to-use site that makes money from advertising. We have a modified experience for viewers using ad blockers

Wikia is not accessible if you've made further modifications. Remove the custom ad blocker rule(s) and the page will load as expected.